'22 In Review – What a Year It's Been for our Museum Store Community!
It's hard to believe that 2022 is almost at a close. While some are happy to move on into a new year, I feel a sense of amazement at what we accomplished in what can only be called a year of transition. There's a song that says; "time is filled with swift transition." Now that I'm older, I truly understand the meaning of that statement. This past year our MSA community witnessed many transitions. Whether it was a change in job title, institution, or even retirement – we shifted with the change and continued our mission.
With all of the change and movement, you – our dedicated membership – continued to show up and press forward…
LOOKING BACK
January was the start of wholesale market season. In Atlanta and Las Vegas, we hosted happy hours. At NY NOW we not only enjoyed a happy hour, but we also met at the annual NY NOW sponsored breakfast for MSA members. It seems that each year the wholesale market gatherings get better and better! Our vendor members and strategic partners are always willing to give and support this effort and I'd like to publicly thank them for all that they do!
Our Education Advisory Group (EAG) has been hard at work this year. They began hosting the Virtual Talking Shops, a roundtable discussion group that meet via Zoom and discuss "hot topics" identified by EAG. They continued vetting the all-important content for our annual MSA FORWARD conference and still found the time to launch the super-useful MSA Resource Library. The Resource Library is a collection of the most often requested policies, agreements, descriptions, models, templates, forms, and checklists. This free library is available on the MSA website to members only – another important member benefit!
As someone who is new to my position at the King Center, I've accessed the library many times and found the specific information I needed. Another fantastic educational program the EAG has produced this year is the Visual Merchandising Symposium. This is a three-part symposium that is hosted by VM-Club and conducted by Anne Cecil. The first symposium, Beyond the Pyramid, focused on how to use the merchandising triangle to create a focal point in your store. The Symposium had over 70 participants, proving that there is a continued desire for professional and targeted education within our community. All of these benefits are free to you as a member, so please take advantage of these incredible offerings.
I would also be remiss if I did not mention that this year, we published the 2022 edition of the MSA Retail Industry Report (RIR). This valuable tool provides benchmarks and insight that help nonprofit retail professionals make wise business decisions for their museum stores and institutions. The information in the RIR will also help your institutional leadership understand ALL of the contributions provided by your business. Make sure that you get your digital copy today for yourself, and to share with the decision-makers at your institutions. One of my focuses this year was to ensure that the chapters would get the necessary attention and assistance they need to thrive. As we moved through the year, the organization was buzzing with the excitement of meeting in your own region — to come together once again to share best practices and network! A few Chapters still held virtual meetings, but many returned to a full in person meeting. Hats off to you for making this year a special one within your region! Thank you for your dedication to MSA.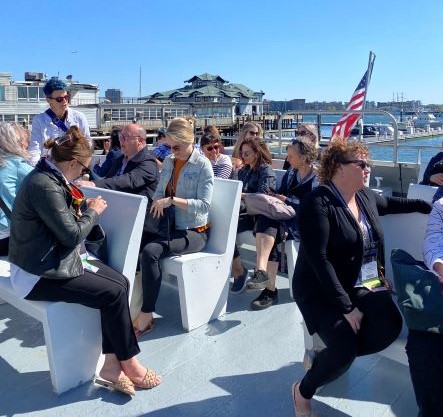 At the mid-point of the year, we hosted and celebrated with our first in-person MSA FORWARD since 2019 and, importantly, our first conference in partnership with the American Alliance of Museums (AAM). This was not only a time of regathering, but a long awaited MSA strategic goal realized. As a result of this event, we strengthened our relationship with AAM and brought greater awareness of who MSA is to our executive directors and upper-level managers. What an amazing job our staff and volunteers did to bring us to this summit in the beautiful city of Boston.
The holiday season is always an exciting time in the world of retail. It's the time that we dig in our heels to create magic in our stores for our guest and visitors, but it's also the time that we as nonprofit retailers celebrate our value to our cultural institutions by way of Museum Store Sunday. This year many of you across the country and around the world joined MSA in celebrating this important marker of advocacy for our industry. More than 2000 cultural institutions participated — and our friends across the pond inducted an additional 140 institutions to join the party. I hope that you and your staff had fun while bringing a greater awareness to the importance of what we do to support the mission of our institutions.
MSA BY THE NUMBERS
The MSA is ending the year in a strong position post-pandemic relative to where we were in 2020. Our membership numbers are up to over 1,000 members, a 25% increase from where we ended in 2020. We are looking to come in 125% over budgeted net income for the year and were able to replenish some of our operating reserves. MSA FORWARD attendance was strong compared to 2022 meeting attendance reported by other associations with over 519 in attendance. We awarded $20,346 in conference institution attendee scholarships this year and had close to 1,000 orders written (estimated) in the expo hall. These are all figures that help us determine the health and stability of our organization and I am happy to say they are very positive.
Lastly, thank you to our small but mighty staff. Despite any obstacles, you held steady and steered us in the right direction. To Elizabeth, Karen, and our newest team members Jennifer and Andrea — thank you for all that you do daily for our association!
Well, what a packed year we've had! I hope to see many of your faces in 2023 at our next MSA FORWARD. Once again, we will partner with AAM and host a dual conference in the Rocky Mountains of Denver, Colorado. Denver is a city rich in culture and excitement. We look forward to seeing you there!
Patricia Sampson is the Director of the Bookstore Resource Center at The King Center in Atlanta, Georgia. Patricia is a dedicated and passionate member of MSA. She has previously served on MSA chapter and national committees, on the regional board of the South Atlantic Chapter, and now serves a third term on the MSA Board of Directors.