VENDORS & SALES REPRESENTATIVES
MSA vendors come in all shapes and sizes, from family-owned businesses to artisans, custom product developers, store operations providers, suppliers and consultants. As varied as MSA vendors are, they all have one thing in common: they love museum stores. MSA membership provides vendors a platform to connect directly with their buyers and opens an entire community of unique and motivated nonprofit retail professionals.
Member-exclusive benefits:
Community discussions through Shop Talk, MSA's online community that allows you to connect directly to buyers and provide product solutions for visitor engagement.
Participation in the Buyer Vendor Forum, a sub-group of ShopTalk that facilitates product-focused conversations between buyers and vendors, including the popular Product Pitch Friday!
Subscription to the digital and print issues of Museum Store Magazine, MSA's biannual publication, is the leading source of ideas, interviews, and information for store operators at nonprofit and cultural institutions
Membership in one of our eight regional chapters for local networking
Listing in the MSA Online Membership Directory for additional exposure to buyers
Be part of the curated collection of MSA Vendors on FAIRE Online Marketplace where it's easy for MSA Buyers to find your brand.
Access to the MSA Job Source for posting jobs and finding talent
Eligibility for recognition through MSA's awards program
Thought leadership opportunities to contribute to MSA publications and monthly blog
Leadership opportunities as a member of taskforce, committee, or Board advisor
MSA exclusive networking opportunities at national and regional markets and gift shows to connect with MSA buyers in the context of larger industry events
Exclusive sponsorship and advertising opportunities at events and in publications
*Vendor members can vote in MSA elections and serve on the Board of Directors as Vendor Advisors
Special member pricing:
Registration and Expo booth for MSA Annual Conference & Expo, MSA FORWARD – an opportunity to network with nonprofit retailers and showcase your products
eBooks and industry publications providing relevant data for benchmarking your success and key insights into topics such as tourism trends, increasing web traffic, and public relations
The MSA Retail Industry Report, which provides benchmarks and insights for nonprofit retail professionals and institutions
Take advantage of FedEx shipping and freight discounts with our trusted partner, PartnerShip 
Vendor member perks at gift shows and markets around the world.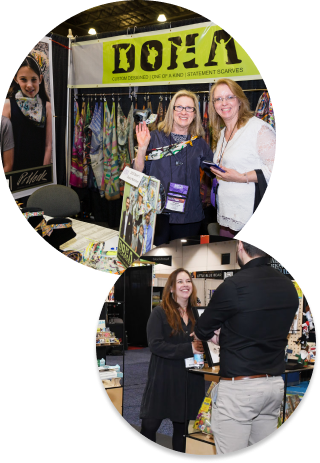 WHY JOIN THE MUSEUM STORE ASSOCIATION?
MSA membership gives you the tools, education, and community to enhance your visitors' experience. Discover what MSA can do for you.
The camaraderie in MSA is amazing. It isn't just buyers helping buyers. It is also vendors helping vendors It's a really special community. Friendly, not competitive.
Kristin Daniels
Kamibashi
Membership Pricing and Details
Annual vendor membership is $360. Through your membership, you become a trusted business source for nonprofit retail professionals across the globe while MSA promotes you to this distinct community.
If you are a sales representative or have more than one individual interested in MSA vendor membership at your company, we also offer a separate price for additional vendor members/sales representatives, $180/additional person.
To renew your membership, log in to your membership account and click on the renew button. If you need any assistance with invoicing or your membership application, please contact membership@museumstoreassociation.org
The MSA vendor application requires two references.
What qualifies as a letter of reference?
The applicant's references must come from nonprofit cultural retail stores that are current or recent customers (within the last 36 months) that have purchased products from the company for sale in their nonprofit cultural retail store(s). Such references need only confirm that the institution has purchased products from the applicant for sale in their nonprofit cultural retail stores and that the institution recommends the vendor for membership in MSA; no additional sales data or testimonials are required. References can be in the following form:
A letter written on institution letterhead and signed by the buyer contact.
An email sent directly from the institution to MSA headquarters staff confirming the purchase of the applicant's product.
Alternatively, applicants can provide MSA headquarters staff with the details of the references (institution name, buyer name, and buyer phone and/or email) and staff will contact the buyer to confirm the reference. Please email membership@museumstoreassociation.org to provide reference contact information.
What if applicants are unable to provide such references?
In the absence of references, applicants may be approved for membership if their product line(s) are determined by the MSA Membership Committee* to be relevant to the nonprofit retail environment.
*The Membership Committee consists of institutions and vendors; vendors on the committee will have an opportunity to provide input but will not have a formal vote.
Vendor Application Checklist
Two References
Merchandise Catalog
Wholesale Pricelist
List of Museums you work with
Vendor Question: Describe how your products and business practices would appeal to MSA's cultural institution members and explain what you would do to support our members and their product needs.  Include any innovations in your product line that might influence your success as an MSA vendor.
*Please note that the online application times out in 45 minutes and will not save your data.