MSA PRO-File: Lynne Francis-Lunn
Until very recently, our colleague Lynne Francis-Lunn was the leader and creative force behind the extraordinary store at the Peabody Essex Museum in Salem, Massachusetts. After a career at the museum for 33 years, she has retired from her position to pursue new endeavors and paths. We caught up with her for this PRO-File before she became completely enmeshed in her new plans.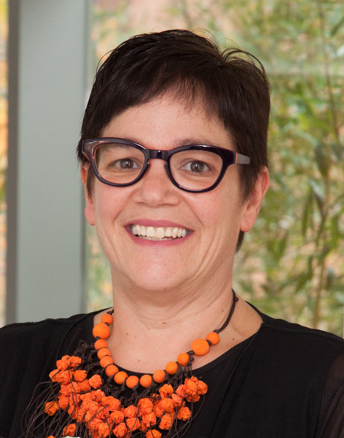 I was born and raised on Martha's Vineyard, the lovely little island off the coast of Massachusetts. In high school, I became very interested in weaving, and I pursued my training at Southeastern Massachusetts University, hoping for a career in the fabric design industry.
What was your professional aim? Was it museums? In a retail capacity or another?
Well, a job in the fabric design world was not the easiest at the time — a lot of that work was leaving this country and moving offshore. I knew the director of the Essex Institute (later to join with the Peabody Museum to become the new Peabody Essex Museum), and I ran into her in a yarn shop. She needed someone to run their store for a few weeks while they searched for a new manager, and I took a three-week contract to do that. Three weeks became six, which became 12, and I thought "I could really do something here. Maybe this would be a great step for me." I applied and was hired — and have been a part of the institution ever since.
What other types of jobs have you had?
I had a few other retail jobs and was very familiar with retail management, and I had also been teaching part time at Newbury College — some courses in textile technology.
No one imagines they will do something for 33 years when they start out. What kept you going?
I am not very good with the same sort of work over and over again. Every new exhibition created opportunities for learning — truly learning something new every day! When a new exhibition was proposed, I would dive into the details and begin the search for new merchandise or what new products could be developed to accompany it. Every exhibition brought a new challenge and a new chance to learn.
You witnessed a lot of growth at PEM. Were you a part of the expansion?
There were so many changes in my time at PEM — a 25-year expansion project after the two institutions had merged their collections and their strategic plans. I was involved in the design of the new store and had been asked by the director to select the proper consultant. After assessing two proposals, I did more research, and with the help of my MSA connections, I located a third choice, and we went with that.
How did your relationships with vendors, artists, curators and collectors affect the business? How was MSA part of your career in nonprofit retail?
Relationships have been absolutely key to the success of PEM's business — through MSA and with all other business connections. Trust is essential to my work — to all of our work. You need to understand the abilities of the vendors to be a partner in a project. And they need to understand that a deadline is a deadline — that exhibition will open on the appointed day, and I must have the merchandise as promised. I can only work with partners who fully understand our needs. Trust will always provide the best possible result.
What was the biggest change you saw through those years? In the business? In the audience and clientele?
I think it must be the same for all of us: online business, Amazon — they represent the biggest change and challenge. But you have to move with those times and develop strategies for your own business.
What was your favorite moment in the course of your time at PEM?
There were many, but the thing of which I am the most proud is all of the terrific working relationships I developed with many colleagues and departments across the institution. We would collaborate on programming and events that wove the store into the exhibition in interesting and supportive ways. When we had our hat show at PEM, on loan from the Victoria and Albert in London, the store orchestrated a hat fashion show. The guest curator was Stephen Jones, one of the top milliners in the world (think hats at the races at Ascot). He allowed us to use hats from his personal collection, and it became a sold-out event. That required working with many others at the museum. During the course of the exhibition, we sold 3,500 hats. That was beyond anyone's expectations at the time.
What was the craziest thing you experienced?
Not so much crazy as unexpected, but meeting and working with fashion icon Iris Apfel during the course of her exhibition at PEM. What started as meeting the donor became an incredible working relationship — and a friendship. She opens doors to many creative worlds but has the solid background of a business person. We would actually meet with Iris in New York and visit shows and showrooms. And, let me tell you, when you travel with Iris, you may meet a number of celebrities! It made me up my game wardrobe-wise, and she was an inspiration for that as well.
What was the biggest lesson from the years at PEM?
At the end of the day, people matter most. Over the course of my career, it is the people I met and worked with — colleagues, co-workers, vendors, customers, staff — people from every area of my life. I worked very hard at my job and truly sought success, but I really remember and cherish the people I knew (and know) the most.
What is next for you?
I am focusing on art making — now that I have actual time to do it! I have always worked on my art, but 10 p.m. is not really the best time for me to start a project, which had been when I could begin to create. Right now I am doing "30 art projects in 30 days" on Instagram. I have a piece in a Kentucky Museum as part of an exhibition organized by the National Basketry Association and another piece in the Cultural Center at Rocky Neck in Gloucester, Massachusetts. Just the beginning — stay tuned for more!
Lynne Francis-Lunn is the former director of merchandising at the Peabody Essex Museum in Salem, Massachusetts. She retired in October 2019 after 33 years. Lynne held the titles of museum shop manager, director of licensing and product development and director of merchandising at PEM. She was a former president of the New England Chapter of the Museum Store Association and presented a several national MSA conferences on licensing and product development. She also presented on museum store practices at the Cooperstown Graduate Program Symposium and at the American Associations of Museums. You can find Lynne on Instagram @Lynnefl.