Supply Chain Challenges — Here to Stay?
By Laura Murphy, Director of Retail Sales, The Preservation Society of Newport County in Newport, RI
The year 2021 offered us interesting and different challenges. First it was Covid — which resulted in a reduction of staff, museums opening and closing due to the pandemic, and then on top of this — we in retail were hit by supply chain issues. The situation: What do you mean you cannot ship me in the next 4 weeks? What do you mean that the order may not arrive for 3 months? I have been spoiled due to the efficiency of many of our vendors. Many of my best-selling vendors would ship to me within a week. I definitely had to change my ordering patterns. I made a lot of mistakes, ran out of best sellers, i.e. souvenirs and decorative pieces. How could we work around this?
Early on in 2021, I felt very confident ordering in product on a timely basis knowing that we would be opening to the public and the stores would need a fresh new look. I ordered a lot of Christmas ornaments because in 2019 we had had a strong selling season. As the months moved forward and our summer season was coming upon us, we did not have this product in house. I would order 20 items and were lucky to receive 5 of them. I started to panic. I decided to change my path and order locally. I placed an order in August and was told that I would not receive it until Feb 2022. The other day I fired up my computer to find an email to say that the order would be delayed due to the fact that the machine part needed to create the item broke — and it was now on order. They are not sure when it will arrive, but I am at the top of the list. I wanted to run out of the building screaming. All I could think was, if I could not do my job, the sales associates could not do theirs…
Why is this happening? It is a domino effect. Covid caused the shutdown of many factories in Asia and India. Then they opened and the product would sit in the harbor waiting for the return of containers that were floating in our harbors. Containers are in the LA harbor for months because they cannot unload due to staff shortages with the long shoremen. Finally, it is unloaded. Then — not enough trucks to move the merchandise due to a lack of drivers. I placed an order for a best-selling ornament in April 2021. I happened to be working at The Breakers store and a customer asked me for it… "You used to have this house ornament"…..I wanted to run out of the store screaming, but I smiled and carefully explained the issue. Thank goodness I was there — as it was a great help to the staff to hear it and now they could repeat the same explanation when that question arose again.
I still need to fill my shelves. Communication was a vital skill in solving this problem. I stayed in touch with my vendors, hounding them on what was in stock and what they could ship me. Many really got the message and worked closely with me to bring in product that still fit our mission – and was available. We saw our department sales category shift as we headed in this new direction. We purchased a lot of local food products — enhancing the selection with cookbooks, books on cocktails, and on manners. I still had to give them plenty of notice to ship. I ordered our local sea salt, but they were out of jars and waiting for delivery. Some of our best vendors were running behind due to lack of materials to create the product. I worked closely with them narrowing down our selection on what we could get and not focus on past best sellers we could not get.
We are hearing rumors that this issue may not change — impacting our deliveries in 2022. As we walked the aisles of the Atlanta Gift Mart a new question arose for us to ask our vendors: how was your shipping in 2021 and what do you see foresee happening in 2022? We placed many orders since our inventory is the lowest it has ever been. Good news: to bring in new product. Bad news: will we be able to fill our shelves? When we completed the order, I asked what could they ship NOW — and that we would take it. I am even bringing in Christmas early if the vendor has it in stock. We placed a very high-end ceramic and lamp order with one of our popular vendors. Not one item had an ETA date. On top of that was a price increase! One of our vendors was smart. When he gave us a print-out of our order, each item had an ETA date. I thanked him and told him he was on top of the curve and that was great for building relationships with his customers.
Will this year be as stressful? Will the pandemic still be dictating shipping issues? They say containers are being off-loaded at a faster rate. Will companies be able to hire to move the products? I still cannot believe that the lollipop company I dealt with for years closed her doors due to lack of materials and staff. I hear rumors that there will be a paper shortage. Will that not only affect the production of paper products such as journals, notecards — but books? Book sales were strong, and I do not want to stress over not being able to offer a top category for us.
2021 was a learning experience. Our ordering pattern was adjusted to handle the issues in what I hope is not a new trend. I am heading into 2022 with fingers crossed and rebuilding my inventory so that our stores will be well stocked, with a new and fresh look to build sales.
Good luck to all of us!!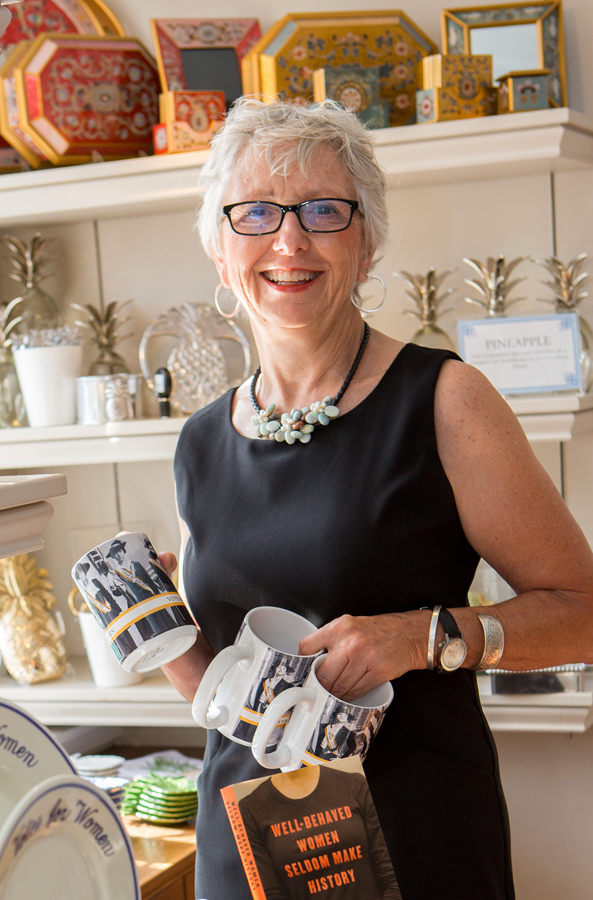 Laura Murphy is the Director of Retail Sales at The Preservation Society of Newport County in Rhode Island. Laura has been at the Preservation Society for close to 30 years, leading the retail department that includes five stores and overseeing the website NewportStyle.net. She has been active in MSA for many years, serving at the Chapter level and eventually as President of the National Office. Laura has served on various committees, but Museum Store Sunday was the favorite. She has also spoken at many of the conferences and contributed to the Magazine and blog.