How to Win an Award
By Rebecca Petrie, Retail Manager, Ah-Tah-Thi-Ki Museum
Every year MSA asks members to submit a product created for their museum for the annual Best Product Development Award. We have a great Christmas ornament, it sells well, and it is truly unique to the Seminole Tribe of Florida- so I thought What the Heck and submitted the ornament. It won. Which led my beloved David Duddy to reach out asking if I would write a blog about the process used in creating an award winning (I still like saying that) ornament. Oh, and by the way, we need it by next week and only 400 to 600 words. Sure — no problem.
First, let me say that I LOVE product development- I enjoy the challenge, the creativity, and the reactions to (most) designs and products. I am in a unique position at the Ah-Tah-Thi-Ki Museum in that I have great latitude on how much I can spend, although I do try not to abuse that freedom. Because of that freedom, I am able to create products that most museums of our size and income would find difficult. We are also in the position of having a very vocal community- I know when a product has bombed almost immediately and conversely when an item is beloved. Back to the ornament: several years ago, I started buying relatively inexpensive ornaments imprinted with Seminole patchwork designs. They were popular so I decided to branch out and create a truly unique, and expensive, ornament. I asked colleagues if anyone knew of a vendor who could make mouth-blown, hand-painted ornaments in custom shapes. Once again, MSA members came through and gave me the names of a couple of vendors. The one I chose had all of their ornaments designed, blown, and painted in Poland and their samples were gorgeous.
With a vendor in hand, it was time to work on the design. Working with a vendor who is in New York City with manufacturing in Poland can be a challenge. Emails of photos went back and forth; I sent images, and the artist in return sent their rendition in clay. I would email, "This is right but that is wrong", and the design work would start again. The process was long — beginning in January for the following Christmas. We started with a Seminole Girl Doll ornament. I realized that with the purchase of one shape, one mold, we could have the ornament painted in an infinite variety of colors and patterns saving money over the years. Price was a consideration; however, I knew that if this was accepted by the community, price would be the least of the concerns. The Girl Doll ornament was a hit so a Boy Doll ornament followed and everyone was happy. Until I got a little bored. What other iconic image was in our collection that would make an interesting ornament? It needed to be flexible enough to change each year in the same way that the doll ornaments changed with different designs and colors. Our collection offered a variety of baskets with differing designs that we could incorporate as long as everyone was good with my taking a bit of liberty (I claim INSPIRED, never original design) — then a doll head basket was just right. The first year I chose a design that actually was on a basket in the collection. The next year it was all eight of the Seminole clans painted around the belly of the basket.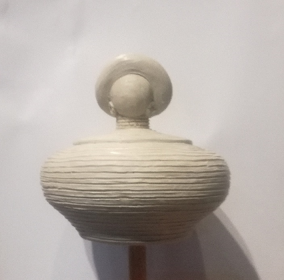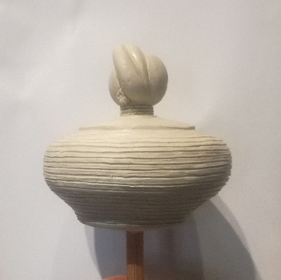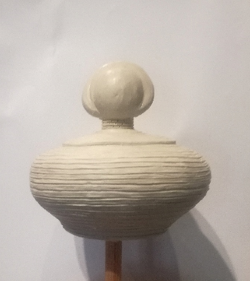 The mold for our mouth blown ornaments starts with a clay master. The clay version can be easily altered before the final mold is created.
Then Covid-19 hit. Would there be a Christmas? Would anyone want to purchase ornaments? What was shipping going to be in a Covid-19 world? It turned out that none of that really mattered. Yes, there would be Christmas. Yes, folks would be happy to buy online, and it turns out that receiving merchandise from Poland was not the hassle that faced items coming in from the Pacific. The 2021 Seminole Doll Head Basket ornament arrived in plenty of time for the holidays. The "stitching" which holds together a Seminole basket, I had painted in the traditional Medicine colors of white, black, red and yellow. I think that this is one of the most beautiful of all of our custom ornaments. Apparently, MSA agreed.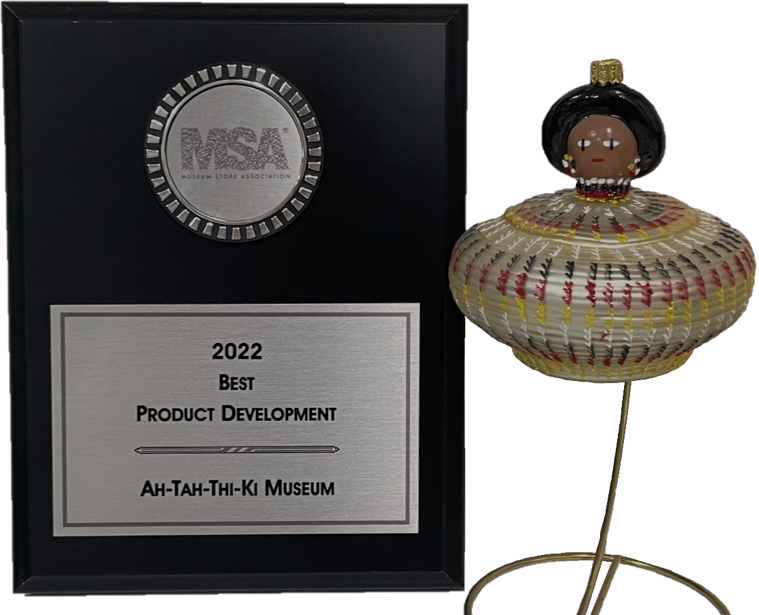 The final product with its award
On a side note, this ornament, although absolutely beautiful, did not sell as well as past versions. The difference I believe was in a misstep on my part. In order to generate income for the Museum during the Covid-19 shutdown, I began working with other departments within the Tribal government. I worked on unique designs that those departments could use as gifts to the community or VIPs. It worked well over the 2020 holidays so I did not hesitate when the Chairman's office requested their own custom ornament. The design was similar enough to our retail ornament and it was given as a gift, so FREE. Fortunately, glass ornaments when well packaged have a very long shelf life, and folks have a way of breaking glass ornaments on an annual basis. I am thinking long range on this one!

In September 2022 Rebecca Petrie will celebrate 36 years as a not-for-profit retail manager. Rebecca's career has taken her from western New England, where she was a chapter officer back in the days when it was the New England Chapter, to the pacific Northwest, to south Florida (chapter officer once again), moving so that she could stay in this industry. Says Rebecca, "The friendships that I have forged while a member of the MSA have, and will continue to be, lifelong."