Museum Store Sunday in The Big Easy
By Michelle Gaynor, Head of Retail Operations, The Shop at The Historic New Orleans Collection
New Orleans is a city that fosters collaboration and seldom needs a reason to host and celebrate an event. The 5th Anniversary of Museum Store Sunday gave us an added reason to spread community participation for a common cause, building awareness for our institutions and encouraging visitation on the Sunday after Thanksgiving.
Collaboration and enthusiasm amongst my talented colleagues from Herman-Grima + Gallier Historic Houses, Louisiana Children's Museum, Museum of the Southern Jewish Experience, New Orleans Museum of Art, Ogden Museum of Southern Art, and The National WWII Museum were the best parts of the planning process. Together we are continuing to brand this day in New Orleans through media stories and features, advertising, and press releases.
Museum Store Sunday is an ongoing opportunity to spotlight the value our museum stores and to bring attention to their institutions and community through interpretive product and support of local artists. An offering of culture (and retail therapy!) gives locals and visitors a reason to get out of the house or escape Cousin Eddy after a few days of close interactions with family and friends. The festive spirit of the holiday season — or perhaps day drinking in the French Quarter — contributes to some of our bigger purchases.
What is my vision for Museum Store Sunday? National awareness that is comparable to Small Business Saturday. I see a future partnership with Visa, Amex, or Mastercard and prime time commercials that tell our stories. I do not know how long that will take — but consistency, collaboration and growing participation can get us there one year at a time!
The Shop at the Historic New Orleans Collection, along with neighboring cultural institutions, was featured on Adore Magazine's website here. Read on to learn more about their collaborative efforts on working with fellow museum shops to create a memorable Museum Store Sunday experience within their community.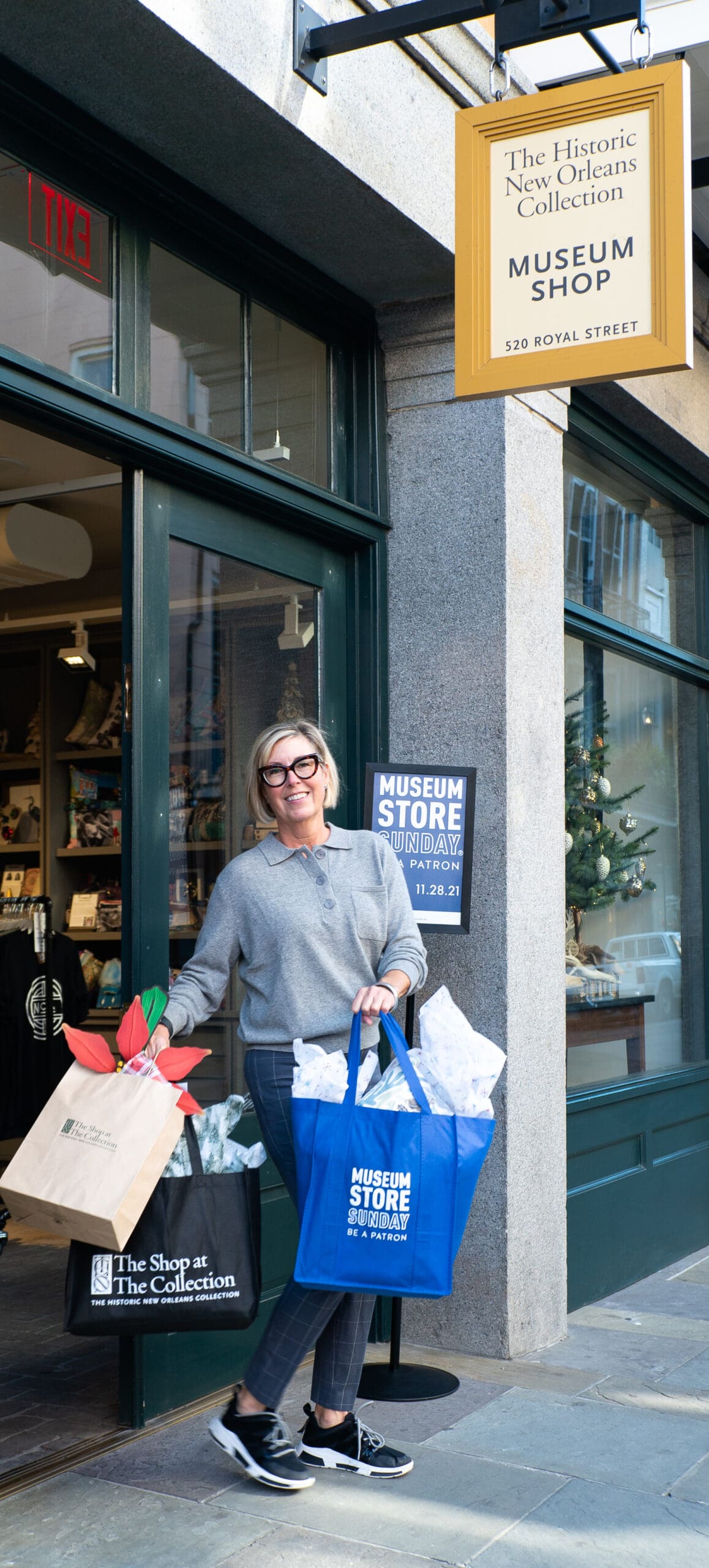 Michelle Gaynor (pictured above) has worked at The Historic New Orleans Collection for 16 years. She currently serves as Head of Retail Operations, where she makes all decisions regarding the shop. Since her start at THNOC, the store has grown from a 500 square foot shop with sales of $225,00 to a new 2,000 square foot space that she designed with architects. The new shop generated over $800,000 in sales the first year of opening in April of 2019.
Michelle enjoys being a mentor to her team and hopes that they thrive and always have big opportunities ahead of them. She is also active in the community and has gotten to know a lot of local artists and businesses. THNOC pops up at Jazz Fest and is currently set up as a King Cake Hub annex for carnival season. Says Michelle, "Trying new things that build awareness and visitation for the museum is the best part of my job."