My Two Favorite Weekends of 2018 Were Both Spent at MSA Chapter Meetings
I've been a member of MSA for over 10 years, but it wasn't until 2018 that I learned a secret that I'm going to share with you: MSA regional chapter meetings, most of which take place in the fall, are the best weekend getaways out there. If you are a member of MSA, you are welcome to join as many of them as you'd like — the meetings are a membership perk that I had never taken advantage of but am now hooked on. At the MSA FORWARD conference, you get to meet and network with an even larger group, but these smaller chapter meetings have a wonderful vibe all of their own. I'm here to get you hooked on this terrific local experience.
My intrigue began several years ago after reading about and seeing pictures of the North Atlantic (NA) Chapter's annual autumn meeting on ShopTalk. They toured museums and held educational sessions during the day, had parties at night and were genuinely enjoying the company of their MSA friends. After reading their posts, I always wished I had been there with them.
Years pass quickly, and it wasn't long before another NA regional meeting was being gushed over on ShopTalk. Posts about other fun and interesting chapter meetings also started appearing, leading me to feel what can only be described as "chapter meeting envy." It was a feeling I haven't had since high school, when I would occasionally miss a weekend house party because I was babysitting the kids around the block. My teenage FOMO (fear of missing out) resurfaced in a big way, and this time I knew I was missing out on something much more fun and interesting than a teenage keg party.
Late last summer, on one of our chapter vendor advisor (CVA) video calls, we decided that each CVA would gather information about their chapter's upcoming meeting and ask the MSA office to post the files under the "Chapters" menu on the website so that they were easily accessible to the whole membership. See the Chapter Upcoming Events for 2019 information as each chapter's plan becomes available.
As I read the itineraries that were posted, it dawned on me that, even though we live in North Carolina and are members of the South Atlantic Chapter, we could get a cheap and direct flight to St. Petersburg, rent a car and drive 50 miles to Lakeland, Florida, where the Florida Chapter meeting was based.
I signed Kamibashi up to be a conference sponsor for the reasonable price of $300, which included registration for one person to attend all of the events that weekend: a cocktail party, a lunch, a dinner, and all museum entry and tour fees. My husband Chris's registration was $80 (Florida Chapter members paid $60), the convenient and comfortable hotel was $99 per night and the whole weekend, including our flights and rental car, cost us about $1,000 total. Had we not sponsored and had we lived close enough to drive, this would have been a much lower figure.
What we got for our modest investment can best be described as an extremely memorable and fun time that was filled with surprises at every turn. We started off the weekend with a Friday evening reception at the Polk Museum complete with appetizers, wine, and beer and a chance to get to know the 26 people we'd be spending the weekend with. There were new faces as well as faces we recognized but, most importantly, they were all friendly faces brought together by three letters: MSA. After mingling and meeting everyone, we were treated to a curator-led, after-hours tour of two fantastic exhibitions before we headed off to dinner in small groups.
The next morning, we all gathered in the hotel lobby and sorted out who would be in which person's car for what turned out to be a full day of one highlight after the next. It is not an exaggeration to say that we were treated like VIPs everywhere we went the entire weekend. We started out with a wonderful tour of Florida Southern College, which was designed by Frank Lloyd Wright, and then had lunch at a café that was on a little lake just a short drive away.
From there, we headed to yet another amazing experience: a trip to Bok Tower with a very special tour that included going inside their famed Singing Tower, which houses a carillon, an instrument that I had never heard of. A carillon is an organ-like instrument that gets its sound from 60 perfectly tuned bells hanging from the ceiling of the 205-foot tower, the heaviest of which is 12 tons. We climbed the stairs to the office and studio of the carillonneur, a full-time position held by a Belgian gentleman (one of the best in the world) who told us about himself and gave us a brief history of the instrument before playing it for us. Little did any of us know that this private meeting and concert with the carillonneur is a treat that only "Tower Level Members" are privy to, and that the vast majority of visitors, including many people who have worked at Bok Tower for years, have never been to the top of the tower.
Next, we headed to a conference room where the volunteer coordinator from Bok Tower talked to everyone about making the most of your volunteers and thinking outside the box when it comes to who your volunteers are. After this, each sponsoring vendor had 15 minutes of everyone's complete attention to present our companies and our products, which we had set up on 8-foot tables that had been assigned to us.
After a short party in the store, we headed off to their state-of-the-art outdoor kitchen where a delicious taco dinner with homemade tortillas awaited our group. After more comradery, we headed to our cars for the drive back to the hotel, feeling grateful for all of the work that the dedicated conference committee and hosts had put in to make this an unforgettable experience for all.
You would think that after this 12-hour, very eventful day, everyone would have been ready for bed, but not this group! After we got back to the hotel, the majority of attendees gathered near the bar in the lobby and hung out and chatted together for another hour or two — and maybe longer — Chris and I were not the last to turn in.
On Sunday, we headed back to the Polk Museum for the Florida Chapter Meeting and an educational session about Museum Store Sunday by Susan Tudor, who everyone applauded for her dedication to Museum Store Sunday and its success. From there, everyone headed home, full of fabulous memories.
Just a few weeks later, our own chapter, the South Atlantic (SA) Chapter, met in Charlotte for the first weekend-long chapter meeting the SA has had in many years. It did not disappoint. Hosted by Amy Grigg of the Mint Museum and planned by Diana Walpole of Crystal Bridges, we were blessed with a gorgeous fall weekend and VIP treatment by both locations of the Mint Museum, the Bechtler Museum of Modern Art, the Levine Museum of the New South and the Carolinas Aviation Museum. The educational sessions were terrific, the exhibits and tour guides a delight and the vendor product presentations over Sunday breakfast very well received and interesting.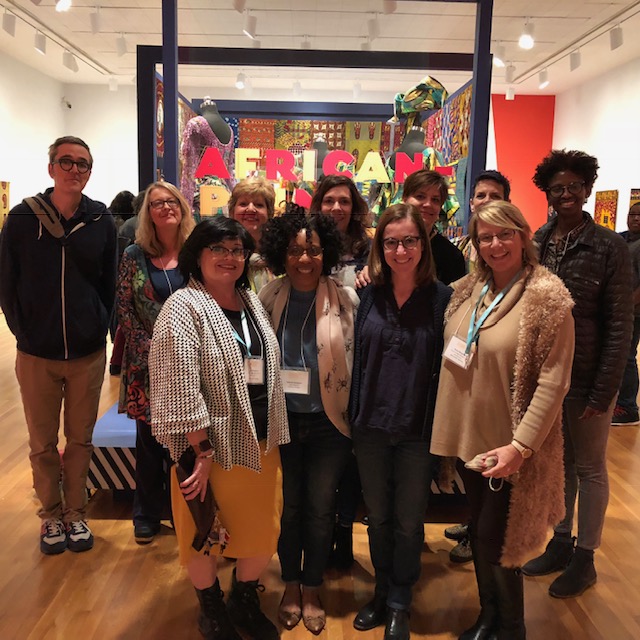 This conference, which I had even played a small part in organizing, was also full of surprises, the biggest of which occurred at a catered dinner on Saturday night at the Carolinas Aviation Museum on the grounds of Charlotte Douglas International Airport. Little did any of us know that we would be seeing the "Miracle on the Hudson" plane that Captain Sully landed perfectly after a flock of geese shut both engines down shortly after taking off from New York's LaGuardia Airport in January 2009. I know I was not alone in getting goosebumps from seeing this plane in person and hearing the stories that our tour guide told. It was really memorable!
My memory for details is not as good as it once was (I can barely remember a movie the day after I've watched it), but I am not exaggerating when I say that I can remember almost every minute of both of these weekends because they were truly wonderous affairs that I felt very privileged to have been able to attend. From my point of view, being invited to attend these amazing chapter meetings that take place at top-notch museums with top-notch people are worth your MSA membership dues and more. Thank you to all of the volunteers who spend many hours organizing these educational and fun weekends — they are something that every MSA member should take advantage of, and I encourage you to get hooked on them too.
P.S. This year, the South Atlantic Regional Conference will be held in Asheville, North Carolina (the hometown of Kamibashi) on the weekend of Sept. 6–8, 2019. Be on the lookout for more information on the Chapter Upcoming Events page of the MSA website around the middle of June.
Kristen Daniels is the president of Kamibashi (the string doll people) and one of two vendor advisers to the MSA Board. When she and her husband Chris travel, they love to visit museums and their shops, so attending regional chapter meetings is going to be something they happily do for many years to come.