PRO-File: Vendor Member Catie Riordan
Catie Riordan is the vice president of retail for Enterprise Ireland in the U.S. Based in New York City, Catie supports Irish retail businesses expand their business and grow in the U.S. and is proud to work with MSA. Catie is a Dublin native and has been living in the U.S. for three and a half years, having worked with Enterprise Ireland in Boston previously. Catie is a graduate of Trinity College Dublin where she completed her bachelor's in business and German.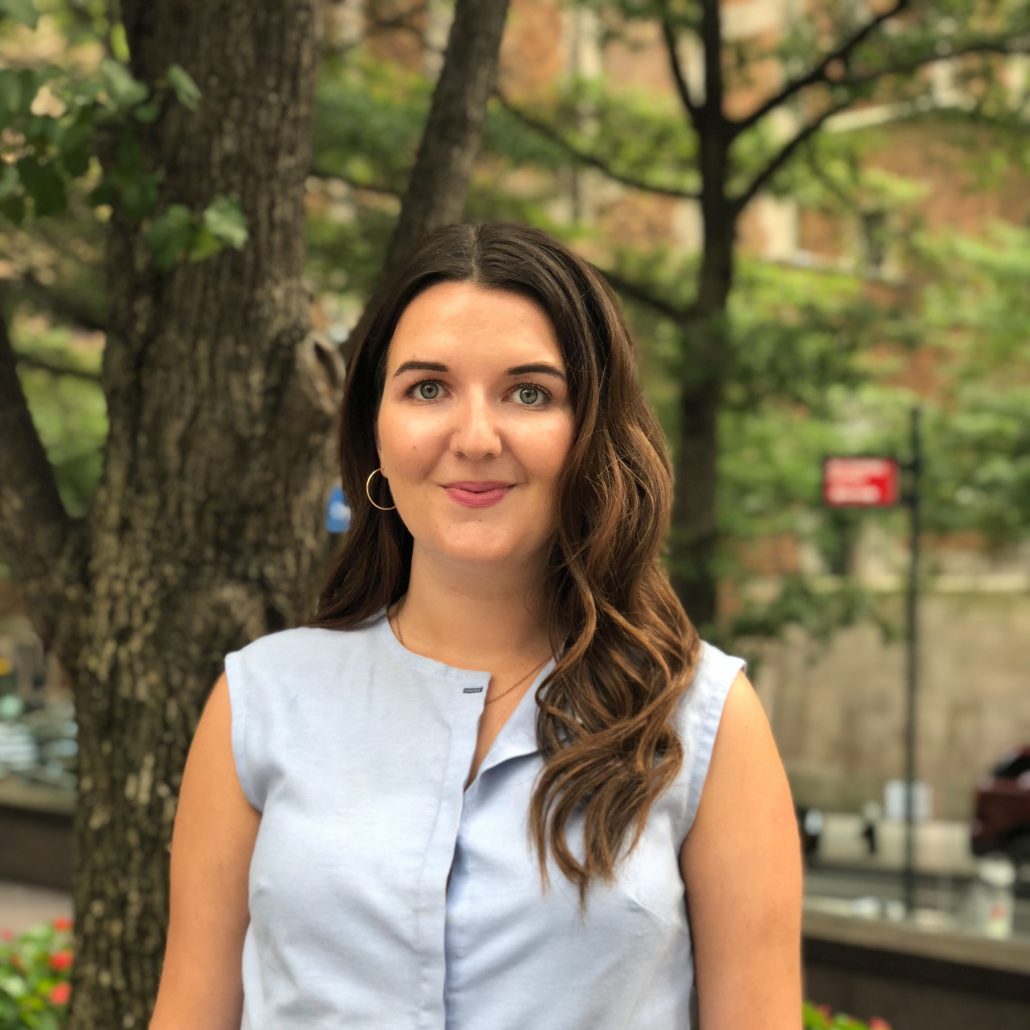 Where did you grow up?
In Dublin, Ireland — Sandycove, a little town right on the beach. (Yes, it does rain a lot.)
Tell me about your company and the work that you do there.
Enterprise Ireland is the Irish government association responsible for development and growth of Irish companies worldwide. We have 33 offices around the world, with our headquarters in Dublin, and we work with 6,000 Irish companies across every sector you can imagine. Our aim is to help them become internationally renowned in their field. My work in the New York office focuses on consumer retail in the U.S.: knitwear through baby products. It's a huge spectrum.
Since this work is so unusual in the context of our museum store community, can you tell me about companies you work with that are very different from our MSA vendors?
Self-tanning products! Ireland has lots of self-tanner companies; it's the most competitive beauty category in Ireland. So I'll work one day with museum stores, and the next with drug stores, then textile buyers — they're very divergent roles.
How did you go from that into museum stores?
Two years ago, Enterprise Ireland started the relationship with MSA because of their focus on unique, thoughtful and high-quality products. We can provide that. Museum buyers appreciate a personal touch, and Irish companies excel at that.
Irish products are far more than shamrocks and Guinness. We've got a whole ecosystem of artists and creatives who produce high-caliber products that meet the needs of museum stores. Authentic discovery is primary to museum stores; it's why people go to museums. And on our vendors side, Irish products are generally very cultural; there's thought behind why a certain fabric is used, or a pattern — care around the products in the factories, and that's particularly appreciated in the museum store industry.
Tell us about the first sale you ever made to a museum or nonprofit institution. What was it? Who did you sell it to?
To the Barnes Foundation. That was the first time I saw tangible value in this partnership. Nicholas Mosse was displayed in the front, right when you walk in but fit into the context of the store. And the Avoca wool products at the New York Historical Society! Here were high-quality Irish products in museum stores that haven't been traditionally Irish.
Did you feel like a partner in that process? Are you still?
Yes. Very much so. I work with a number of associations, and I've never experienced such close partnerships with an association — such a close-knit community, so incredibly welcoming, and with a sense of everyone helping everyone, vendor to vendor and buyer to buyer. All our companies who have sold to museum stores feel the personal connection is very important. It's a real relationship.
There is a lot of turmoil currently in the retail world. Can you tell us one exciting trend that you've noticed?
There's an increase in the amount of research people are doing before they purchase their products. Consumers are going online, reading reviews, looking at the company, then going in-store to buy that product. It's a convergence of supporting local business but having done your online research. We put more consideration into the buying process, which then leads to companies looking at their reviews increasingly, as well as comments on social media. Now companies care less about page views and more about page reviews. It's a more informed consumer and more thoughtful purchase. And that fits right into the missions of museum stores.
Do you shop differently yourself now that you've been working with museum stores?
Oh, yes, and particularly since attending MSA FORWARD in Washington, D.C. It's given me a better understanding of the effort and detailed research buyers go through. Museum stores are mini-galleries. If the public truly understood how much work goes into creating a museum store! It's mind-blowing. I have a much greater respect and appreciation. I take more time to look around the store and understand the links between the items and the works in the museum.
What do you eat for breakfast? Do you eat a traditional Irish breakfast?
Oh, no. It's yogurt and honey during the week, but giant bagels on the weekend. If I could, I would eat a bagel every single day. The New York thing is true; they really are better here.
Do you have a hobby? Collection? Unusual talent?
I'm running a half marathon in Central Park next week. I started running this year to better learn my neighborhood. Sometimes I take a wrong turn, and then I really learn my neighborhood!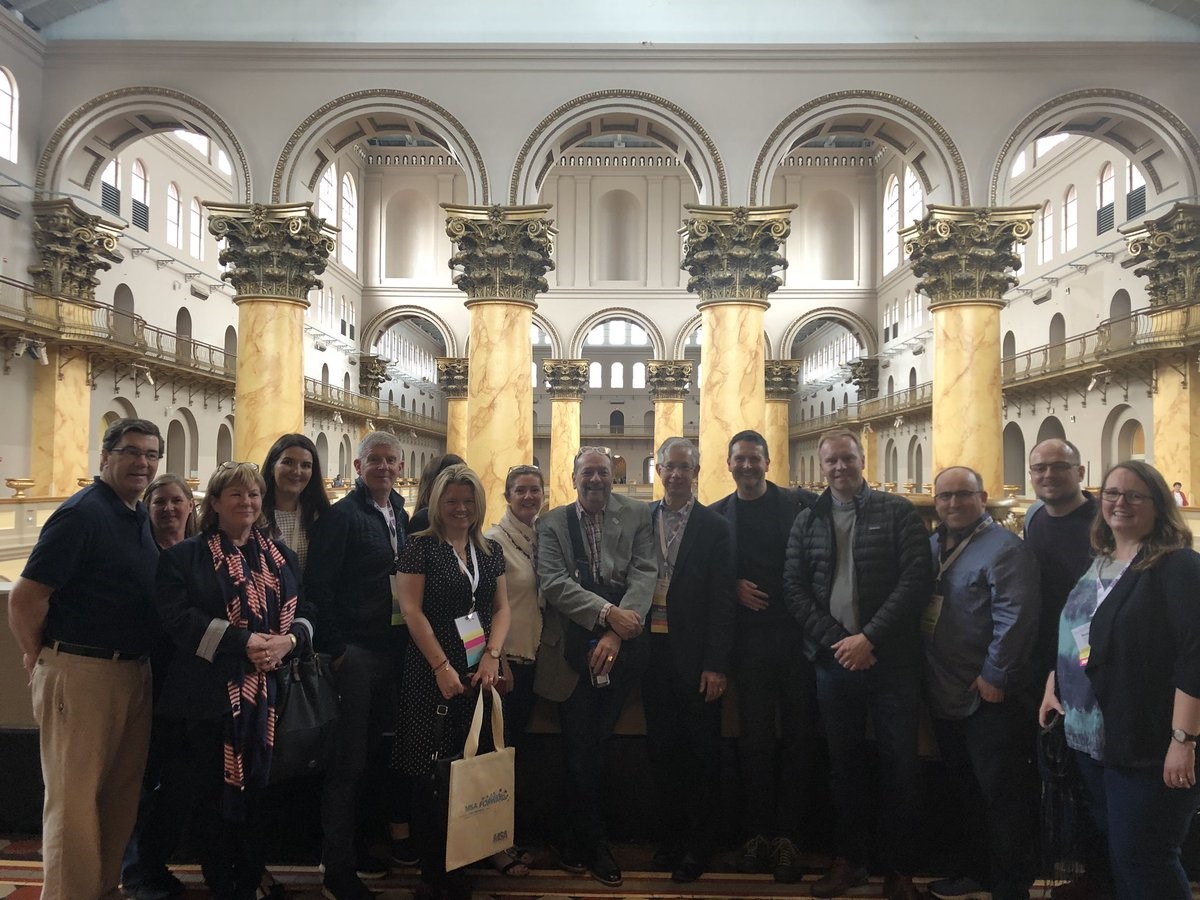 Enterprise Ireland vendors at the National Building Museum in Washington, D.C., with Michael Higdon, retail manager of NBM.