Recognizing Excellence at MSA FORWARD
From March 28 to April 1, over 600 MSA members — museum store professionals and vendors alike — had the opportunity to come together to learn, buy, sell, network and explore at MSA FORWARD 2019: Create, Innovate, Educate!, the 64th annual Retail Conference & Expo, in San Diego, California. Thanks to everyone who participated and supported MSA FORWARD 2019.
Our time in San Diego was extraordinary. We participated in essential, elevated and exclusive learning sessions designed for all MSA members. We made new connections during our many excursions and networking events. At our first-class expo, we discovered incredible new products destined to be top sellers in our stores.
During MSA FORWARD 2019, we also recognized and celebrated several of our MSA leaders and members for their creativity, passion, hard work and dedication that make the MSA community so special and vibrant. We are proud to recognize the 2019 recipients for the MSA Buyer's Choice Awards, the MSA Board Awards for Outstanding Service, the MSA Store of the Year Award and the MSA Recognition Awards.
Buyer's Choice Awards
Each year at MSA FORWARD, buyers select their favorite new items in the categories of Books and Multimedia, Custom Design, Eco-Friendly, Education and Games, Fashion and Paper Products. This year, with over 20 products on the ballot, buyers were faced with hard decisions across all categories — but six creative, eye-catching and forward-thinking products ended up taking home the coveted awards.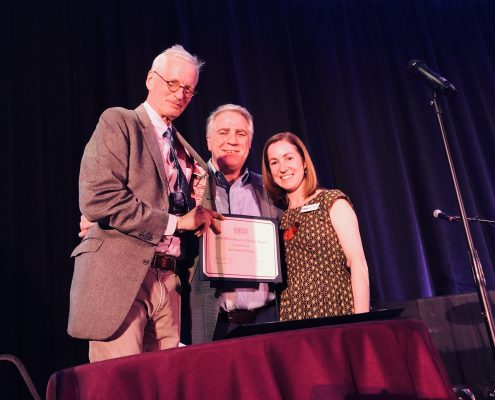 Books & Multimedia
Mudpuppy, Little Artists Board Book Set
Custom Design
David Howell & Company, Contemporary Pencil Tree Ornament
Eco-Friendly
Prime Line Packaging, Love is Stronger than Hate 9/11 Memorial Museum reusable canvas tote
Education & Games
Pomegranate Communications, INC, Charley Harper's Spot the Birds Board Game
Fashion
DONA Scarves, Wedding Package – Joslyn Museum
Paper Products
Girl of All Work, Museum Collection: Great Masters Page Flags
MSA Board Awards for Outstanding Service
Each year, MSA's Board of Directors has the opportunity to recognize individuals in the Museum Store Association community who exemplify the MSA spirit — leaving a lasting impact on MSA and paving the way for the association's future. This year, these awards took five forms: the Merit Award, the Special Recognition Award, the Advocacy Award, the MSA NEXT Award and the M Award.
MSA Merit Award
The Merit Award is bestowed only on individuals who have contributed to the significant improvement of MSA.
Alice McAuliffe, Walters Art Museum – At conferences, in MSA's blog posts and as a past Mid-Atlantic Chapter president, Alice has been a powerful presence in MSA for many years. During her two years as board treasurer, MSA reaped the benefits of Alice's talent, expertise and professionalism during challenging times. She has a tremendous ability to stay focused on the future of MSA and the great need we have to cultivate and mentor emerging leaders. Her work on MSA's behalf has had a meaningful impact on individuals, our community and our industry.
MSA Special Recognition Award
The MSA Special Recognition Award honors a staff member's contribution to the advancement of the association.
Dana Butler, Managing Editor, Museum Store Magazine – Dana has been the managing editor of Aspen Magazine, PaperCity and Denver Magazine, and she has brought that experience and talent to MSA's Museum Store Magazine since 2014. Dana believes that the magazine isn't doing its job if it doesn't serve the members' needs first and foremost, and Dana does so by consistently sourcing relevant content, and by using her journalism, management and editing skills to advance MSA.
MSA Advocacy Award
The new MSA Advocacy Award is bestowed to any individual, institution, vendor or organization who has demonstrated sustained effort and accomplished significant progress in advocating for MSA and its mission.
AmericasMart Atlanta – Our colleagues at AmericasMart Atlanta have taken action on many fronts to promote MSA and its initiatives: as a founding member of the Advocacy Committee, a founding sponsor of Museum Store Sunday, through their successful launch of the Museum Collective, which has given the MSA its first permanent branded location at a major trade show, and as a consistent supporter and promoter of MSA. AmericasMart Atlanta has proven itself invaluable as an advocate and partner for MSA.
MSA NEXT Award
This award honors a young professional whose efforts inspire future museum retail professional leaders through unique contributions that benefit all MSA members.
Steve Santangelo, Popcorn Custom Products – As a leader within one of MSA's newest initiatives, Steve brings fresh ideas, enthusiasm and innovation to MSA. He motivates future leaders of our industry through his unique contributions and participation in creating dynamic, fun and engaging programming. His many talents and adventurous spirit are a tremendous benefit to MSA NEXT and to the entire MSA community.
The M Award
The M Award is the highest award given by the Museum Store Association. To receive the M Award, the recipient must show outstanding dedication and loyalty to the association through creativity, effectiveness, and the spirit of volunteerism and support.

Over the last four years, a remarkable group of volunteers made up of both institutions and vendors faced unprecedented challenges in their work for MSA. This year, the MSA Board chose three deserving individuals to receive the M Award. While this is unprecedented, so is the work these individuals have done on MSA's behalf.
Chris Michel, The National World War II Museum – Chris's diligence, expertise and vision with all financial matters pertaining to MSA positioned our organization to dramatically improve its financial standing. His mission to add value to MSA membership resulted in an inclusive annual conference filled with fun, camaraderie, exceptional speakers and professionalized programming overall. His mastery at budgeting and tough negotiating skills resulted in profit for MSA. Chris served two years on the MSA Board as director at large. He served twice as Conference Committee co-chair and continues to serve on the MSA Finance Committee.
Julie Steiner, Barnes Foundation – Julie's vision, research and exploration led MSA to a stable foundation with a sophisticated association management company. Her work as MSA Board president resulted in a world-class Retail Industry Report that re-established MSA's leadership position in this industry, the ongoing publication of an annual Membership Directory, and the promise of a future filled with international opportunities for MSA members. Julie's leadership has had a powerful impact on, and has benefited MSA, in innumerable ways. Her talent, skill and extraordinary ability to place museum stores in the larger context of commerce and consumer value have made a lasting impact. Julie continues to volunteer on the Finance Committee, the Advocacy Committee and MSA NEXT.
Paul Stewart-Stand, Stewart/Stand – Paul's passion, critical thinking and sheer tenacity benefited MSA through many important initiatives and challenges. The results include MSA's right-sized gem of a conference, with his specific skills at work to ensure responsible budgeting, planning, marketing and branding. Paul's creative ingenuity also helped MSA win the 2018 ICON Honors for Museum Store Sunday brand identity development and brand launch. Paul served two years on the MSA Board as vendor member adviser and two years as Conference Committee co-chair.
Through the dedication and efforts of Chris, Julie and Paul, MSA is a far better organization. On behalf of our entire MSA community, we thank you for your creativity, effectiveness and spirit of volunteerism.
Museum STORE OF THE YEAR
One of MSA's newest initiatives — the MSA STORE OF THE MONTH, culminating in the MSA STORE OF THE YEAR — launched in August 2018 with this goal in mind: advocacy for museum stores and the professionals who create them. The new awards recognize outstanding achievement within our community.
We are pleased to bestow the inaugural MSA STORE OF THE YEAR award on Waite and Peirce Authentic and Exotic Goods at Salem Maritime National Historic Site. This unique store concept is inspired by the real story of Salem shippers and privateers. The store reflects the location's history in maritime trade through their product assortment and creates an immersive shopping experience on the wharf. Through this effort, the store has created a lifestyle brand that is connecting with local residents as well as appealing to national park tourists.
Recognition Awards
In order to recognize excellence across a wide array of talents, MSA presents annual Recognition Awards. This year, we spotlighted recipients and finalists in seven categories.
Product Development
Recipient: Fine Arts Museums of San Francisco for its exclusive San Francisco Skyline Collection, developed with artist and designer Yoni Alter.
Finalist: Eastern National, for the Garfield Wallpaper RainCaper
Finalist: The Virginia Museum of Fine Arts, for the À la Bodinière die cut magnet
Visual Merchandising
Recipient: The Virginia Museum of Fine Arts
for its exhibition shop display for Terracotta Army: Legacy of the First Emperor of China.
Finalist: Filoli Historic House and Garden, for their Bees and Lavender display
Finalist: Greater Des Moines Botanical Garden, for their Asianic Tropical Floor display
Web Presence
Recipient: The Virginia Museum of Fine Arts, which created a site that links in-store promotions and social media, museum exhibitions and programming, and features the best the VMFA Shop has to offer.
Finalist: The New-York Historical Society
Vendor of the Year
Recipient: KJK Jewelry, a leading designer and manufacturer of handcrafted jewelry.
Finalist: Found Image Press, maker of unique stationery lines featuring vintage images
Finalist: Schiffer Publishing, Ltd, independent publisher of high- quality, nonfiction books
Best Pop-Up Store or Event
Recipient: The New-York Historical Society for their pop-up exhibition shop for Harry Potter: A History of Magic.
Finalist: Frederick Douglass National Historical Site organized by Eastern National
Finalist: The Witte Museum, for their White Shaman Preserve pop-up store
2018 Best Museum Store Sunday Event – Institution Award
Recipient: Fourteen Philadelphia-area museums that participated in the collaborative MSS Passport Patron program, which included: Barnes Foundation, Brandywine River Museum of Art, Delaware Art Museum, Eastern State Penitentiary, Fabric Workshop and Museum, Grounds for Sculpture, Hagley Museum and Library, Mutter Museum of the College of Physicians of Philadelphia, National Museum of American Jewish History, New Jersey State Museum, Penn Museum (University of Pennsylvania Museum of Archaeology and Anthropology), ,Pennsylvania Academy of the Fine Arts, Philadelphia Museum of Art, and Winterthur Museum, Garden & Library.
Finalist: Carnegie Museums of Pittsburgh
Finalist: The National Museum of Toys and Miniatures
2018 Best Museum Store Sunday Event – Vendor Award
Recipient: Popcorn Custom Products for their creation of an Andrew Wyeth Limited Edition Archival Print: "Northern Light" in collaborations with Brandywine Museum of Art. Brandywine marketed this print to their members in a targeted newsletter and participated with regional museums in the successful Museum Store Sunday passport campaign.

Congratulations to the award recipients, finalists and nominees! And sincere thanks to everyone in our community who makes contributions toward the success and future of the Museum Store Association.